Domestic Cold Storage
With more than 400,00 machines sold since 2005, Star Cool is well established as the second largest reefer brand in the global market. The innovative Star Cool is engineered to meet the needs of the most demanding customers, while minimizing costs and environmental impact.
Display
The display on a Star Cool reefer is user friendly, easy to access and offers visible DH LCD. This reduces risk of operational error…
Dual reefer plug
Two Star Cool units can run at the same time on a single 32 Amp outlet regardless of ambient, or set temp.
Energy efficiency
Star Cool has proven lead energy efficiency in the reefer market numerous times. This is done via detailed lab test mimicking…
Sekstant
An MCI purpose developed Smart Edge device including wide band 4G LTE with global coverage in a single device…
Low noise
The Star Cool compressor is managed by a variable speed frequency converter that ensures the compressor…
Spare parts
Star Cool spare parts can be delivered within five working days from one of our +400 service providers.
Refrigerants
By adjusting injection control, air flow and software for R513A compatibility, Star Cool offers an economically sound upgrade that can achieve a 56% reduction of GWP compared to the previously used R134a (GWP=1430). Among all A1 classified F-gases, R513A is the best choice to reduce the carbon footprint of reefer containers today.
---
Resources
Star Cool domestic cold storage use
---
General Inquiry
Global Sales and Marketing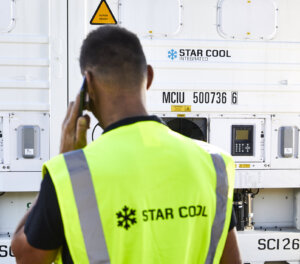 Cases
Thursday, December 21, 2017
Star Cool brings cost-efficient cooling to non-commercial applications
Tuesday, January 10, 2023
Chill out! BOXIT & Star Cool collaborates at danish summer events
Cold storage
Customer story